TRONTOPIA WHITEPAPER UPDATE
TRONTOPIA just release today their whitepaper update with upcoming games, new rake reward system, staking and sports-book soon to be release, here a short description of the new whitepaper.
As always TRONTOPIA with very captivating design, on this new whitepaper the most important things that everyone is expecting are the new reward system and the new UI, TRONTOPIA is one of the DAPPS that has proven to be legit and competitive after all the up and downs a few months ago, but the ideas are very brilliant and innovative.
Thew new UI seems to be very simple and clean as seen on the next picture.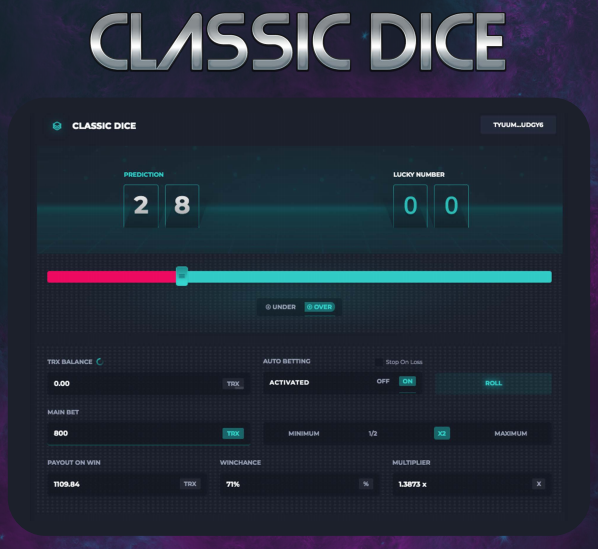 As in any other casino classic dice is the one with the most traffic but now TRONTOPIA is adding a couple of games:
Lucky One Mix: (TRONTOPIA ORIGINAL) "The goal is to catch as much ones (1) as possible in a single roll.
Pressing roll generates, a true random number between 1 – 9999999.
You win if your generated number contains at least a one ( 1 )
The more ones, the higher the payout.
Win up to 500x"
Video Poker: your regular Poker Game, doesnt says if its a P2P or just against the system but you will mint Topia Tokens and Vouchers.
-** Blitz**: "Blitz is trontopia's pvp games section (player vs player)
Players can challenge other players in a variety of traditional and new pvp style of
Games. The first game to be released is blitz wheel
Users pick a color and bet, the bigger the bet, the higher the odds of winning.
The more slots you own on the wheel the higher the odds of winning the total pot.
50% of the blitz profits are distributed to the topia staking pool
And 50% is distributed to the diamond pool."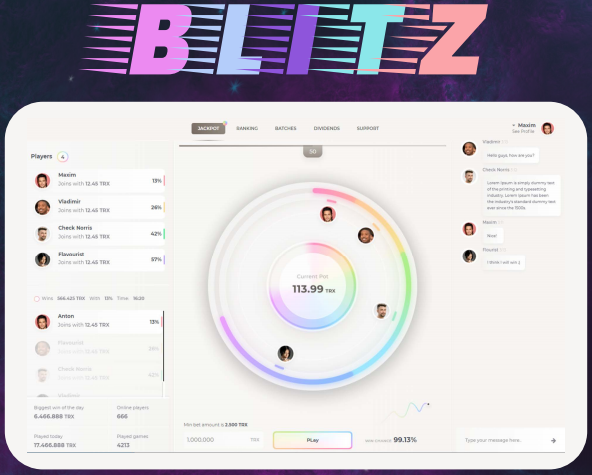 TOPIASPORTS: Topiasports is our fully licensed sportsbook developed in collaboration with Monsterbyte.
Players can place bets on football, basketball, esports, boxing,soccer…
Over 20 sports/leagues. Each wager mines both topia & vouchers.
50% of the profits from the sportsbook is distributed to the topia staking pool, and 50% is
Distributed to the diamond staking pool.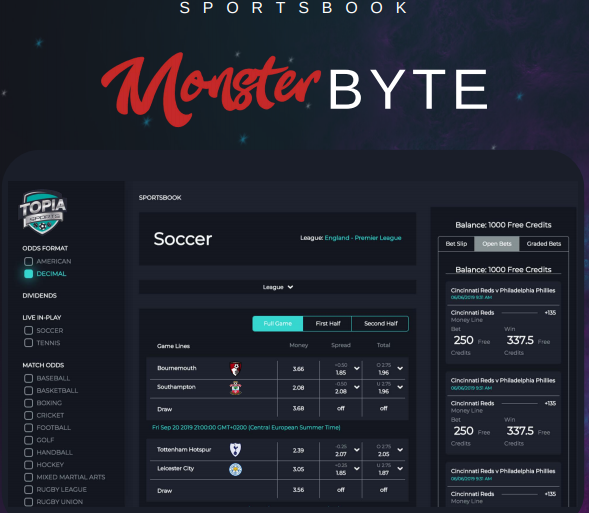 I honestly dont know Monsterbytes, would have to do some research about them but in any case its interesting how now days DAPPS are interacting between each others trying to create use case for their tokens with other DAPPS.
Rake reward system: As seen on other platforms this is based on volume, TRONTOPIA has been suffering from DAILY NEGATIVE POOLS because of users constantly winning games with high bets, with the RAKE system those who stake their tokens will earn a portion of each bet there for there is no way of negative dividend pool, users can now unfreeze any of their tokens including TOPIA TOKENS.
Before Diamond Tokens were the ones that could earn daily dividends no matter if the pool was negative now all three Tokens (TOPIA, SHARES and DIAMONDS) will benefit from the daily volume and not the house edge, the only difference is that DIAMONDS get 50% of house edge and SHARES get a diversify portfolio of dividends based on BTT, USDT & other tron ecosystem tokens.
WAO those are a lot of changes for the platform and it will no longer be a two games platform, with sportsbets, p2p games and raked system reward things are going to change, this gives TOPIA more tools to step in with the big players on the DAPP Space, I cant wait for all this new updates to be release.
Here the pdf if you are interested in reading the entire whitepaper: https://www.trontopia.co/whitepaper-englishS2.pdf
If you like the content please click on the first banner at the start of the article that helps or you can upvote this post at https://www.steemit.me
Good Luck, Thanks
@tipU @dclick
https://steemit.com/@dclick
https://steemit.com/@tipu
If you would like to make a donation to help the site grow and keep it rolling, feel free at any of this wallets

BITCOIN: 1DTk43ycprv5KKN5NKoqxjcUtLXkq7bKH2
LITECOIN: LiY3YyV8xWGh2h8EM9hVeF5pBhamsE9jMY
ETHEREUM: 0xd09e47A64c81aca28cf639FaD1EA428Be4fB6F2E
TRON: TEh2KR6rsa3p81SvbVspSfuEXfoBzTWxZQ
BAT: 0xd09e47A64c81aca28cf639FaD1EA428Be4fB6F2E
…
DISCLAIMER: The information Cryptoxicate.com or its media channels not limited to Twitter, Telegram, Discord, Instagram, Facebook, or any upgcomming social media platform or internet search engine results is not financial advice. This information is for informational and entertainment purposes only. Any information provided are only and simple thoughts and opinions, you must not follow any of this thoughts and look for a profesional financial advisor since we are not any type of advisors. Dont not get into crypto currencies since its a high risk investment if you do not have the proper guidance and any investment that you made is your own responsability and no one else.