ALMOST ON THE GREEN WITH MORE VARIANTS – HEX STAKING DAY #004
I DONT DO THIS POST SO YOU GET INTO HEX, THERE IS NO REFERAL OR LINK TO HEX ON ANY OF MY DAILY HEX UPDATE POSTS
So now that altcoins are pumping on both USD and BTC value since BTC went up in value, when BTC goes up if price of ETH remains the same on USD it only goes up in USD value but if it goes up in BTC too then you get way more, for example when I got into HEX it was 0.000015 ETH but now that ETH went up on both BTC and USD it backups my investment in a way since when I look at the USD value its currently +11.6%
USD VALUE
Cost: $233.09
Current Value: $260.13
Up: +11.60%
ETH VALUE
Cost: 1.3512 ETH
Current Value: 1.3344 ETH
Down: -1.24%
Yes its currently up on USD value but my real target would be ETH value, eventually ppl will keep taking profits I would say because it has gone up so much in value but today something happen and its that the Whale who pump the price that much went and bought $600,000 on ETH and then swap it for HEX and that brought the price up very close to when I bought HEX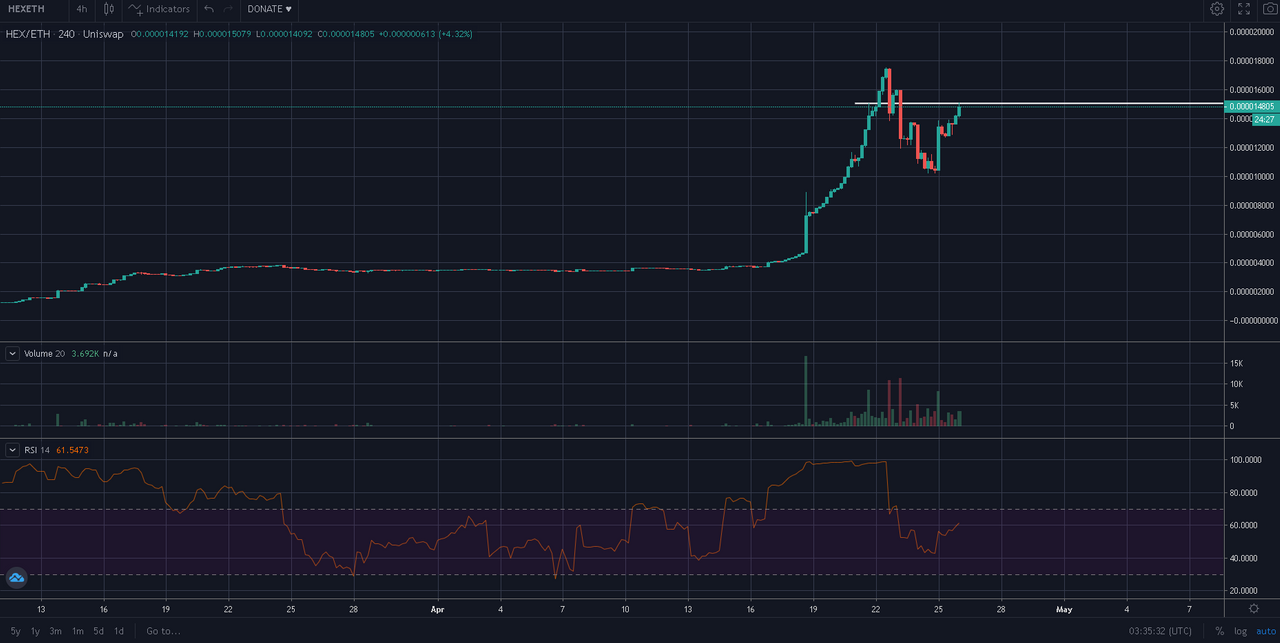 At the moment of this post I have own 3,036.66 HEX , at current price thats only about $8.70, thats about $2.17 a day from a $233.09 investment, just by accumulating rewards thats close to $65.25 and would take me close to 3.5 months to ROI, although based on how HEX is design and this whale just buying more and locking coins for over 1000 days.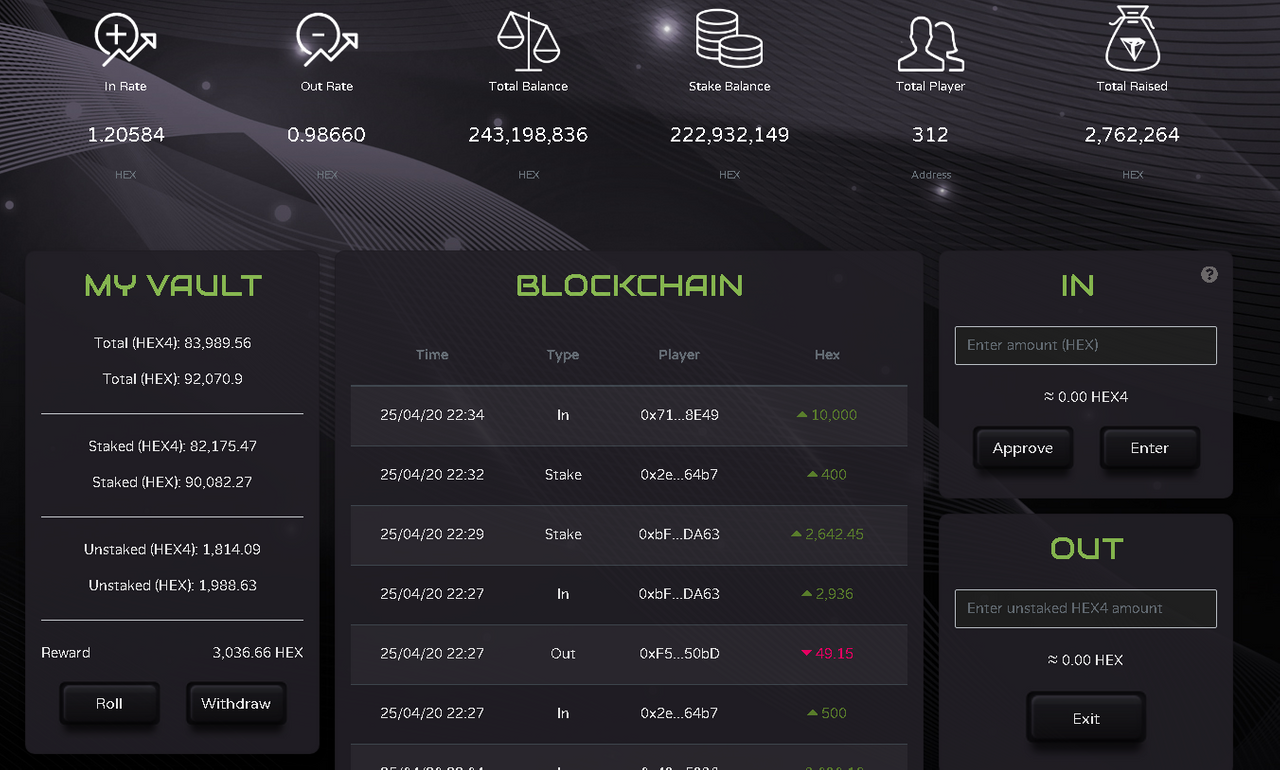 My actual approach would be just forget about the $233.19 as I intentionally did right from the start and keep getting dividends, my current stake ends in three days, my next stake will be for 175 days that puts me until october 15,2020 by then I ""SHOULD"" ROI and depending if the price of HEX keeps going up then I would start to sell rewards that way I will ROI faster, I dont think this is the deal of the century neither Im going to get rich but besides Bitcoin, STEEM, HIVE, LBRY there is nothing else that gets my attention so I may do well with HEX, will keep you posted with my daily rewards.
👇🏻Support the channel by using my affiliate links👇🏻
LINKS:
► Start Trading: https://bit.ly/startaltcointrading
► WINK: http://www.winktoken.com
► TRONTOPIA: http://bit.ly/TRONTOPIA
► KRYPTOGAMERS: http://bit.ly/KRYPTOGAMERS
► Start Mining: http://bit.ly/2LPfJly
More of my content
LBRY: https://lbry.tv/@cryptoxicate
Hive: https://peakd.com/@cryptoxicate/posts
Steemit: https://steemit.com/@cryptoxicate/posts
Publish0x: https://www.publish0x.com/@CRYPTOXICATE
Cent.co: https://beta.cent.co/@cryptox1cate
Youtube: http://bit.ly/CRYPTOXICATEYT
Cos.TV: https://cos.tv/channel/18528113144276992
Website: https://Cryptoxicate.com
Podcast
Spotify: http://spoti.fi/CRYPTOXICATESPOTIFY
Anchor.fm: https://anchor.fm/cryptoxicate
Music: https://bit.ly/GREATCREATORMUSIC
DISCLAIMER: The information Cryptoxicate.com or its media channels not limited to Twitter, Telegram, Discord, Instagram, Facebook, or any upgcomming social media platform or internet search engine results is not financial advice. This information is for informational and entertainment purposes only. Any information provided are only and simple thoughts and opinions, you must not follow any of this thoughts and look for a profesional financial advisor since we are not any type of advisors. Dont not get into crypto currencies since its a high risk investment if you do not have the proper guidance and any investment that you made is your own responsability and no one else.