HEX FOUND A BOTTOM – HEX STAKING DAY #006
It really looks like HEX is finding a bottom and probably with a constant bullish sentiment within the community there is the feel that this cryptocurrency may be in a constant bull run until the big pay day on Novermber 2020.
As on all my post Im 100% honest and I still think that there is a big possibility that this will crash anytime, somethings seem to good to be true, for example whales locking coins for 1 year meaning that for price to crash hard a lot of money would have to enter, ppl locking coins for months all waiting for big payday, its just everything I have learn not to follow but again the amount of money I put into this Im willing to risk it although the only reason that sometimes make me get out of the project is other opportunities, coins I want to keep staking like HIVE, STEEM, LBC, BEAM, not saying they are better but are very cheap or going back to cheap prices, I dont think the Bitcoin Halving Pump and Dump will affect HEX, same as TRON is not that much affected by Bitcoin dumps because of so many Dapp users on the network, anyways this is how the chart looks
.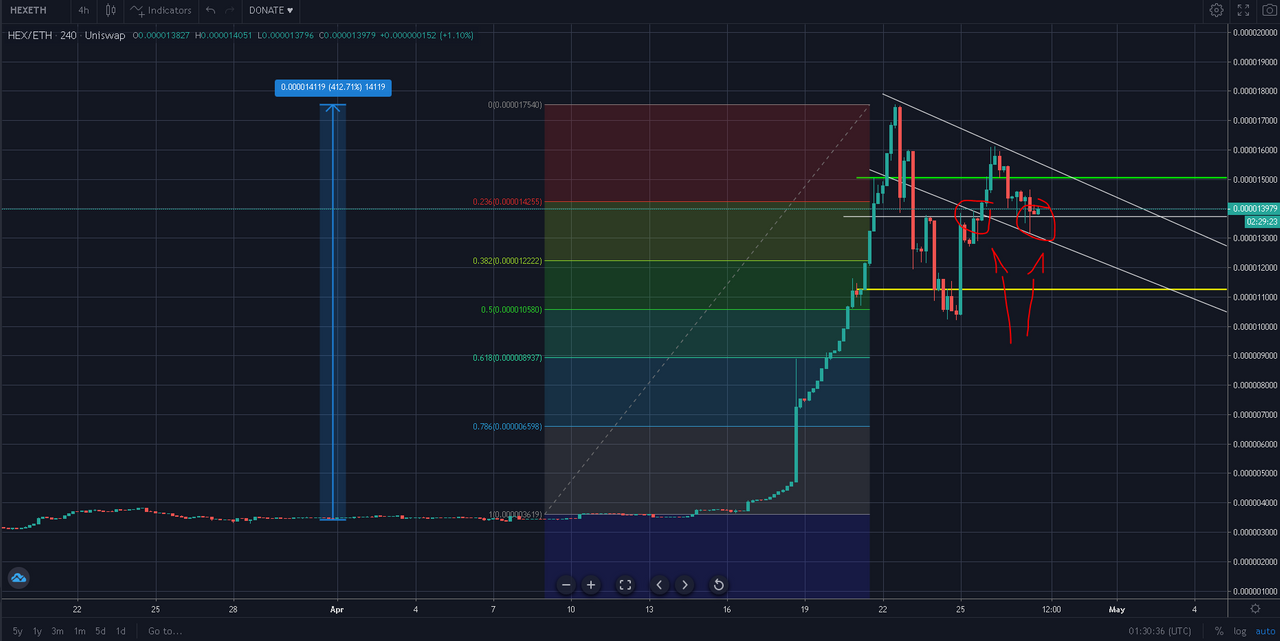 .
At the moment of this post we can see the price is starting to find a bottom and a level that makes sense, we can see how resistance has decided to become support as most of the time and the profit taking has stop for now.
I will have to take a decision in the next two days
1- Quit and move on for better or less risky investment
2- Stake for 170 days that will get me to october but if Im going to stake that long better stake for a year and get the pay day and be there, just F it
3- Rewards are not that bad, have got 54444.08 for the past 6 days, at current price thats about $14.6 , if we rate it to 30 days that might be $73.33, thats about 31% a month and the longer the stake the more I may get but that will probably be diluted with time, I could ROI and still make 100% before big pay day so I could cash out my rewards before November 2020 and the rest let it run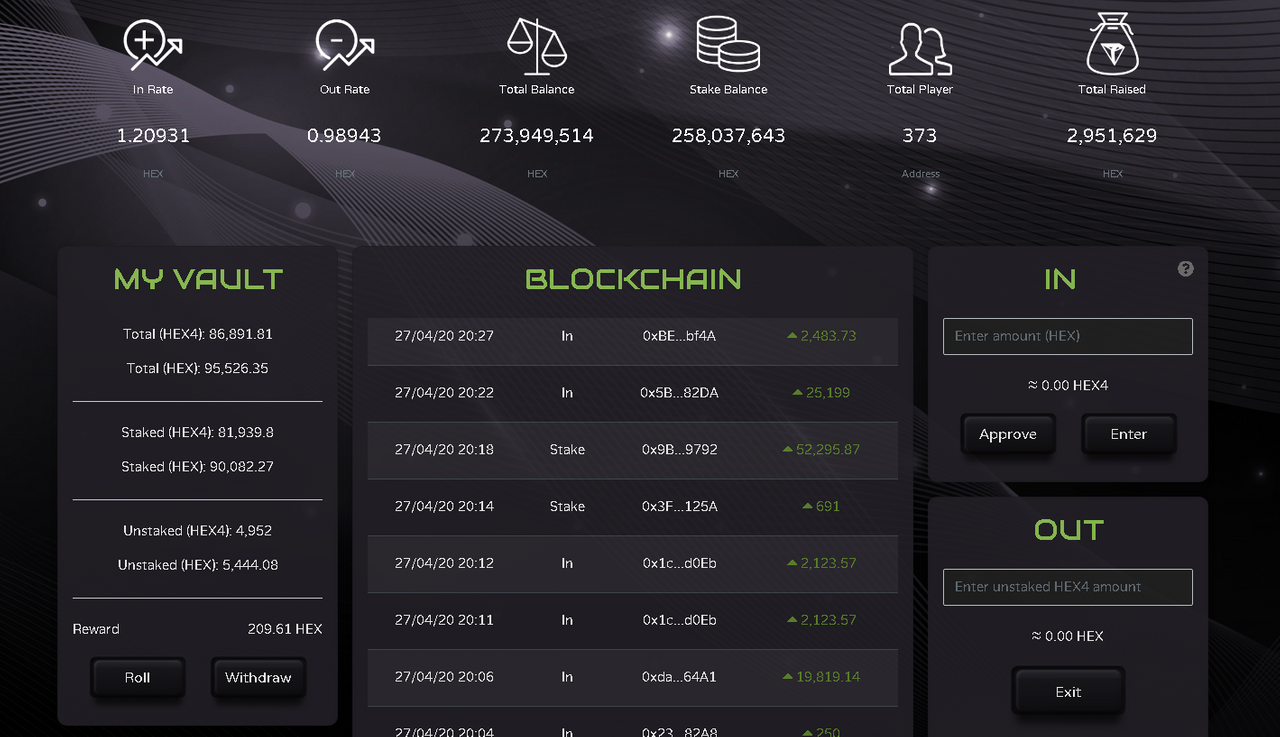 Still trying to decide what to do, not that much money so I think Im more into staking for one year, ROI, dont miss the Big Pay Day and see whats going to happen after November, anyways Ill keep you posted
If you like the content please share and subscribe on any of the social networks below or use any of my referral links from down below.
Good Luck, Thanks
👇🏻Consider Supporting the channel by using my affiliate links👇🏻
LINKS:
► Start Trading: https://bit.ly/startaltcointrading
► WINK: http://www.winktoken.com
► TRONTOPIA: http://bit.ly/TRONTOPIA
► KRYPTOGAMERS: http://bit.ly/KRYPTOGAMERS
► Start Mining: http://bit.ly/2LPfJly
More of my content
LBRY: https://lbry.tv/@cryptoxicate
Hive: https://peakd.com/@cryptoxicate/posts
Steemit: https://steemit.com/@cryptoxicate/posts
Publish0x: https://www.publish0x.com/@CRYPTOXICATE
Cent.co: https://beta.cent.co/@cryptox1cate
Youtube: http://bit.ly/CRYPTOXICATEYT
Cos.TV: https://cos.tv/channel/18528113144276992
Website: https://Cryptoxicate.com
Podcast
Spotify: http://spoti.fi/CRYPTOXICATESPOTIFY
Anchor.fm: https://anchor.fm/cryptoxicate
Music: https://bit.ly/GREATCREATORMUSIC
DISCLAIMER: The information Cryptoxicate.com or its media channels not limited to Twitter, Telegram, Discord, Instagram, Facebook, or any upgcomming social media platform or internet search engine results is not financial advice. This information is for informational and entertainment purposes only. Any information provided are only and simple thoughts and opinions, you must not follow any of this thoughts and look for a profesional financial advisor since we are not any type of advisors. Dont not get into crypto currencies since its a high risk investment if you do not have the proper guidance and any investment that you made is your own responsability and no one else.