HEX 365 DAYS JUST STARTED – HEX STAKING DAY #000
Got to say I did ok for my first seven days of staking so decided to stake for 365 days, Ill tell you why latter on this article.
HEX Chart HEX/ETH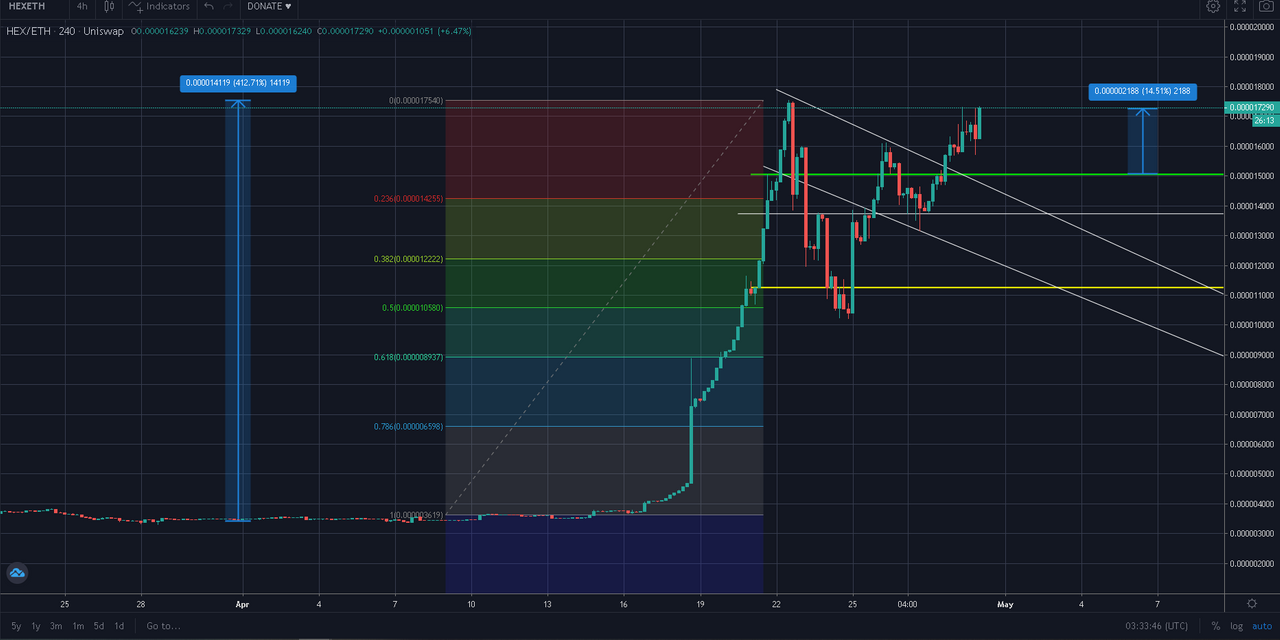 -The green line is my entry, YES IT IS LATE or not
-Currently 14.51% up since my entry at 0.000015 ETH
-Made 6,997.24 HEX from staking, current USD $26.36
-The amount of reward is a bit higher than 7% of my stack
-My ETH stack was equal to 1.3512 ETH and now 1.5501 ETH
-My ETH stack is 45.57% up in USD value
Screenshot after my staking finish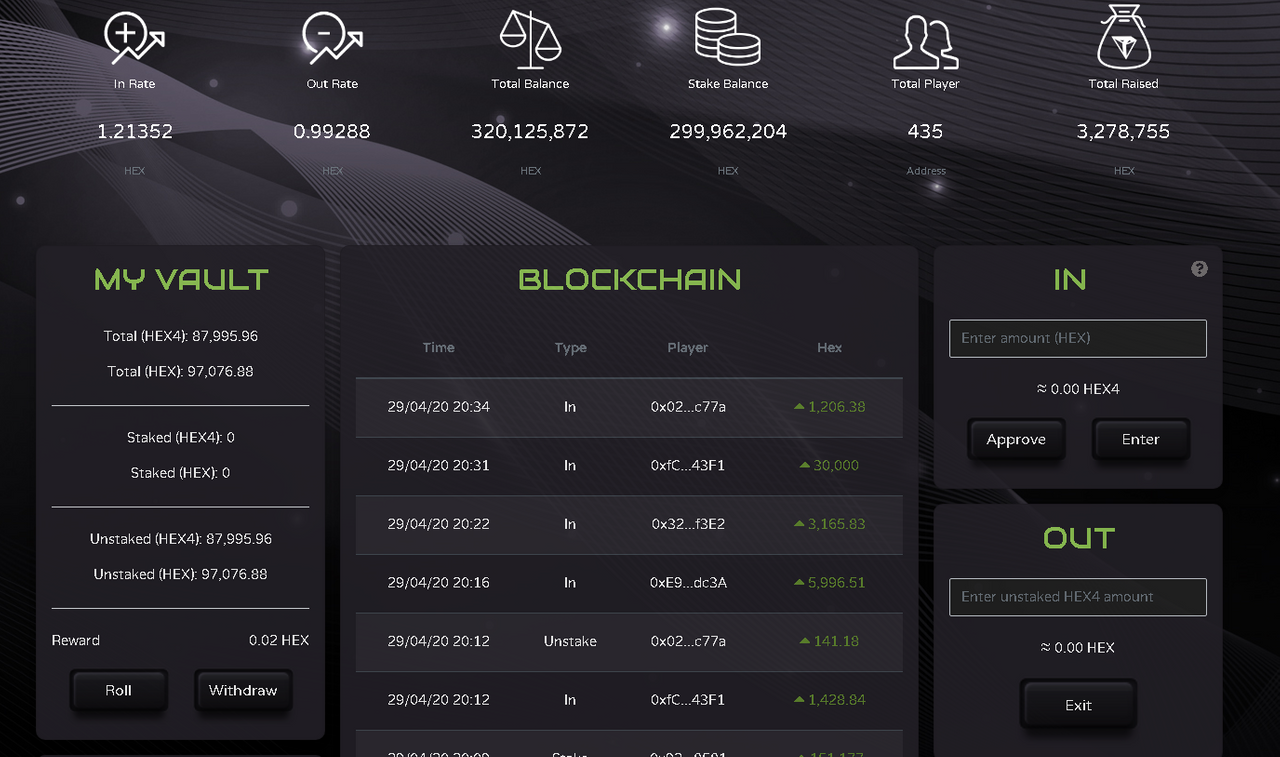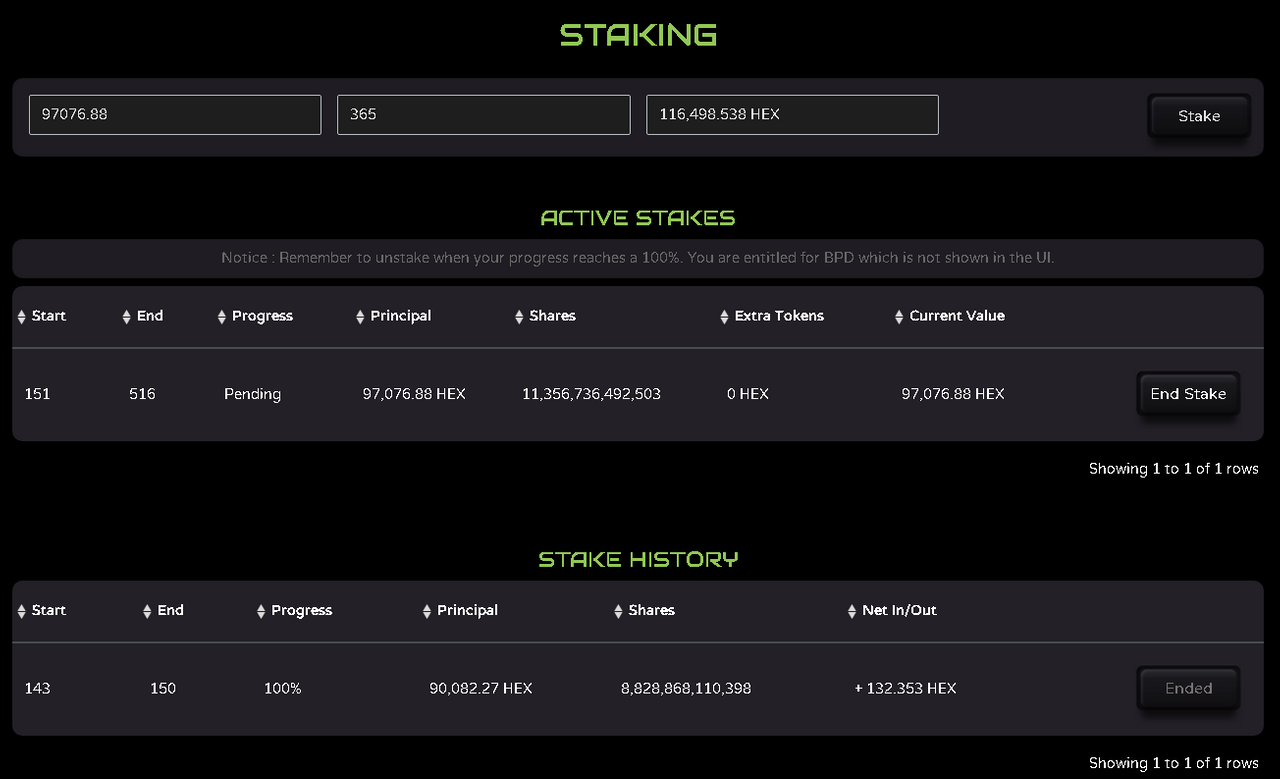 To keep simple here my reasons why decided to start a 365 days of staking
-I decided those 1.5501 ETH doesn't exist anymore
-At current pace should ROI within 60, 90 the worst case
-After ROI everything is profit
-ETH could keep going up depending if market turns bullish
-HEX seems to be going up for now, thats the entire purpose I got in, seems it wont go down anytime soon
-Dont want to miss "BIGPAYDAY" in November 2020
My strategy:
-Wont add anymore ETH no matter what happens to HEX
-Will keep collecting rewards and wont reinvest
HEX wont go up forever, nothing goes for ever but I still have plenty of time to ROI before November and probably at some point ppl will FOMO again into HEX before BIGPAYDAY on November 2020, that will make me ROI faster, and will sell HEX for ETH everytime price is considerable higher than my entry, simple
If you like the content please share and subscribe on any of the social networks below or use any of my referral links from down below.
Good Luck, Thanks
👇🏻Consider Supporting the channel by using my affiliate links👇🏻
125X LEVERATE TRADING BITCOIN – CLICK HERE
LINKS:
► Start Trading: https://bit.ly/startaltcointrading
► Start Mining: http://bit.ly/2LPfJly
► TRON CASINO: http://bit.ly/WINKTRONBET
► STEEM CASINO: http://bit.ly/KRYPTOGAMERS
More of my content
LBRY: https://lbry.tv/@cryptoxicate
Hive: https://peakd.com/@cryptoxicate/posts
Steemit: https://steemit.com/@cryptoxicate/posts
Publish0x: https://www.publish0x.com/@CRYPTOXICATE
Cent.co: https://beta.cent.co/@cryptox1cate
Youtube: http://bit.ly/CRYPTOXICATEYT
Website: https://Cryptoxicate.com
FREE COPYRIGHT MUSIC
Music: https://bit.ly/GREATCREATORMUSIC
.
DISCLAIMER: The information Cryptoxicate.com or its media channels not limited to Twitter, Telegram, Discord, Instagram, Facebook, or any upcoming social media platform or internet search engine results is not financial advice. This information is for informational and entertainment purposes only. Any information provided are only and simple thoughts and opinions, you must not follow any of this thoughts and look for a professional financial advisor since we are not any type of advisors. Dont not get into crypto currencies since its a high risk investment if you do not have the proper guidance and any investment that you made is your own responsibility and no one else.
#bitcoinhalving #bitcoin #ethereum #cryptocurrency #blockchain #crypto #tron #nuls #hive #binance